Industry sectors for door to door Leaflet distribution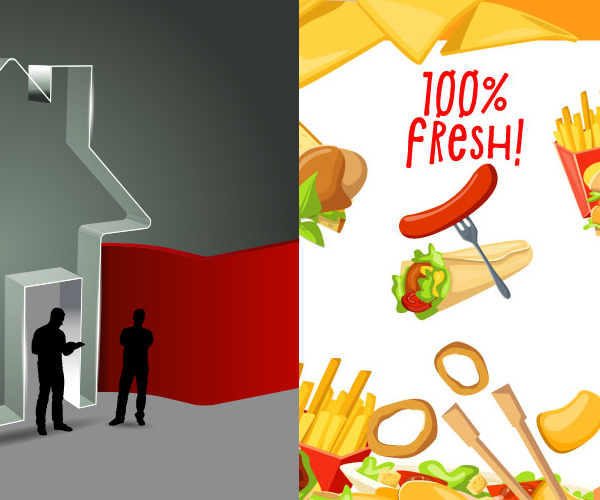 Chinese Restaurant Delivery Menus. Chippers, Indian Restaurant Delivery, Pizza Delivery
The importance of physical delivery menus to the food delivery is unparalleled, and mostly undiminished by the digital sectors. There is a natural synergy between the couch and the door to door leaflet event. Work with Local Post to create specimens that survive through the weekday carnage of the average family. Touch stones of the modern day experience. What is there not to like?
There is also the reminder aspect of it all. Ordering by phone is still mostly considered easier. Particularly by the older demographic. And let's face it young and old prefer to look and hold a physical menu. Easier to talk about and discuss what you are all going have, and that is half the fun, the expectation.
Are you trying to break into the office lunchtime market, an area of huge growth in the last few years, or are you simply bringing out a new menu for residential homes in an area you are well known, no matter. We can help with both. We know who lives where, where the offices are and what number of people you can expect to reach by us delivering your menus to our specially chosen areas.
We understand that when it comes to food delivery that margins are key, we can provide delivery leaflet partners that are non-competitive, and work well with your restaurant or takeaway. Reliable and customer oriented are our two focuses here in Local Post. Get in touch and we can get started getting your fantastic menu and delicious food in front of the right people.
We will take the time to sit down with you, identify your needs, and map out a plan and a strategy for leaflet distribution. Let's get people fed.
Estate agents.
A little nudge, sometimes a gigantic hint is all that is often what it takes to get that seller motivated, to enable the new buyer to start dreaming of that fantastic new house.
Estate agents using leaflets is nothing new, we are both all about people and places. With Local Post we are able to utilise our extensive database of estates and areas around the country. Highly cost efficient and extremely reliable Local Post and Estate Agents are natural partners.
We bring your message into any area around the city and surrounding counties. Opening up new markets and creating more momentum for Estate Agents and Property Agencies nationwide.
We understand that people are not interested in moving house all year round, at Christmas in the depths of winter, families are happy where they are, thus it is essential that Estate Agents have somebody who understands the target area and are prepared to listen.
Our years in the industry have helped us to know when to listen and when to speak up. Now that Ireland is back moving house, we should talk.
Childcare providers
Everyone is run off their feet these days, most parents find that they both have to work most of the week, hence the burgeoning childcare sector. Local post have worked successfully with various childcare practices and understand that not every home is a potential client. That is why we will sit down with you and work out which areas to target, where the families are who are in search of a service such as yourselves. People will switch their childcare provider if they are not satisfied or their child is unhappy, it is an extremely price sensitive sector, thus it is worth considering even established areas for a targeted leaflet drop. Pricelists, testimonials, number of children, these are all extremely powerful marketing motivators.
Health & Fitness
Gyms and personal trainers, yoga classes, spin classes, Tai Chi, Martial Arts, boxercise, it seems we can't get enough of physical fitness. Local post are delighted to help get Ireland moving, training and sweating. Let us take the strain, our super fit employees will ensure that your new gym membership offer is delivered into the areas we have chosen through our ocal knowledge and your sector expertise. Our Interactive Mapping Tool will help us identify where your next client is, which areas are still not best served by a local gym, what office blocks are looking for a lunchtime workout space. All our results are checked and confirmed to ensure complete transparency.
Tradesmen
Plumbers, carpenters, tilers, handymen(or women) there is never one around when you need one, right? Wrong, working together with Local Post we will ensure that your name is on the fridge, in the phone or wallet of every future client in a given area. Leaking tap, tile come off the roof, no matter, with our help you will be the go to person to help your client out. Create long lasting relationships. Like us here in Local Post we understand the importance of long lasting relationships. Much more cost effective to keep a customer than to find new ones. That is why it is essential to put your services, credentials, testimonials in front of the right people. When they see the quality of your work they will tell everyone. When it comes to something like plumbing, home repairs, leaking roof, people have very little idea on cost, price lists provide peace of mind. Client testimonials provide peer permission, enable customers to get in touch knowing roughly what they are going to be charged. Have credentials, are you an RGII Plumber, make sure your direct marketing material displays this front and center.
Local Authorities, Councils
Are you struggling to get your message out, to have your story heard through the noise? Leaflet drops are the perfect way to ensure that when your constituents encounter your message they have the time and mental space to read, absorb and act on if necessary. Local authorities are often blamed for all manner of ills, ensure that your successes are unfiltered through opinionated know it alls. Keeping your voters up to date, informed and engaged is a daily struggle, as well as an important aspect of Local Authorities work. Putting on a Halloween Parade, get the word out, fill the streets. Local park clean up, people want to be involved, after all it is their park. Here in Local Post we know where your people are, our systems guarantee that the taxpayers money is well spent and completely accountable. Tell them what is going on, explain the roadworks, don't allow local naysayers to dictate the news.
Hairdressers
A real growth industry, sorry we couldn't resist! An extremely competitive sector as more and more open across the nation. You need to get your prices, special offers and services in front of the right people, and who are they? Well almost every house has a potential client. Sit down with us and see who you are going to target. Let us work with your business plan, your marketing strategy to tell people who you are, where you are, what services you are providing and how to go about making an appointment. Stand out from the pack, let your character show through. With our help we can design and print stand out leaflets that bring people to your salon.
Financial Institutions
Insurance and mortgage brokers are natural partners with Local Post, we can get your services in front of the right people. The people who are looking for that great motor insurance quote, or are struggling to find a mortgage.
Fashion, Acting Schools
Ireland is changing everyday. Fashion and acting schools are no longer the preserve of the few. This is a time of superb opportunity for agencies like these. Areas that were never targeted are out there waiting to see and act on your beautifully designed, and precisely targeted marketing material.
Get in touch
Email – 353 1 451 9000
Call us – leaflets@localpost.ie